A new generation RGS.
SlotEngine® RGS is a complete remote gaming server solution, for development and operation of online slot games. It consists of an API using super-light and lightning-fast framework for game server apps; Core Gaming and Casino Integration services; an Administrative API and a Portal for operator or regulator access.
Advanced Demo slot games are playable, courtesy of our strategic partner Rising Digital Inc. Our fun-only Baccarat Game is available for download on the App Store, as is our Lucky8s social slots.
Download SlotEngine® product overview -- Please contact us for more information.
Proven, best-in-class tech.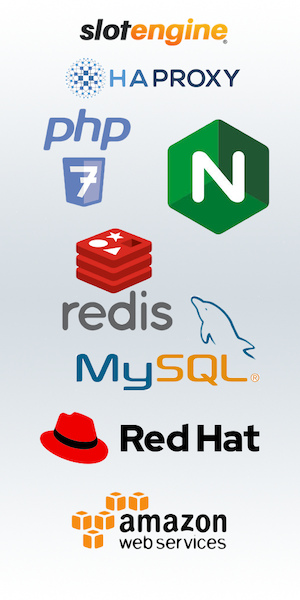 Ultra-light. Lightning fast.
Each SlotEngine® request/response runs as a highly efficient transaction, through a HA (high availability) configuration with NGINX. SlotEngine® has been tuned for a high transaction throughput, in a lightning-fast round-the-globe battery of tests, against CloudFront-ed Amazon EC2 and RDS services.
Clean-state start and a single-thread / single-purpose micro-transaction design, makes for a highly efficient, uncluttered operational model, easy to debug, maintain, and scale. Redis-based session and state management deliveres maximum game performance efficiency. Review a comparison of SlotEngine vs legacy RGS solutions.
Any size. Any model.
SlotEngine® was designed for infrastructure implementation that can scale vertically and horizontally, to accommodate operations of any size, under any legal model. Distribution, computing, and storage are decoupled, allowing for theoretically limitless operations. The solution may be deployed privately, or, for example, under AWS or Google cloud infrastructure.
SlotEngine® may be deployed for social or simulated games anywhere in the world, immediately. Regulated real money gaming jurisdictions require separate approval and certification by the jurisdiction's approved labs. SlotEngine® has been certified by GLI against the international GLI-19 standards, and by iTechLabs for UK/Malta RNG compliance. SlotEngine® is *regulator-ready.
By industry experts
Digital Game Systems Corp has been serving the gaming industry since 1996; when, in partnership with Dreamplay Research Corp, and PlayStar Inc, we have built and deployed one of the world's first online casino solutions.
Over the years, new versions of the SlotEngine® framework have been embedded in social games, slot machine games, VLT games, and a number of online system games. Our clients span Asia, Europe and North America
Please contact us for more information, product specs, technical documentation, integration strategy and licensing details, at support@digitalgamesystems.com
Digital Game Systems Corp.
213 N. Stephanie St. Suite G-297
Henderson, NV, 89074, USA